Hello~ I have a variety of Jpop and Jrock Magazines for sale as well as a Kemanashi Kazuya Photobook!
In the near future I will be listing lots of posters! JRock, Jpop, and Kpop! If you are looking for anything in particular, let me know, and I can dig through my collection for you.
Everything is in like new condition unless stated otherwise, and have been stored in a smoke-free, pet-free home. I ship from Virginia, USA, and I can mail your item out within two days. Prices do not include shipping, but I'm happy to work with you and ship your item the way you want it! If you don't like my prices, please make me an offer. I accept Paypal only!
Kami no Shizuku (Kamenashi Kazuya) Photobook - $30
(with obi and Kame postcard)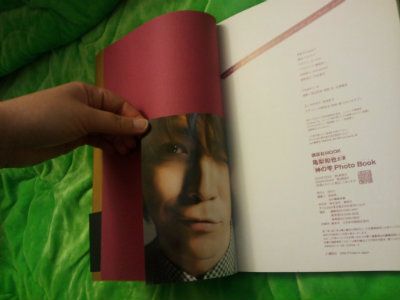 L'Arc en Ciel Hyde Faith Photobook
SOLD
WINK UP April 2009 (Matsumoto Jun) - $40
(with poster – Jun on one side, Kattun on the other)
WINK UP Nov 2006 (Junichi Okada and Sho Sakurai) -$25
(with poster – 2 sided Kattun, and a thicker paper Kanjani 8 thing)
WINK UP May 2008 (New Season is on the cover but inside there is a very cute!!! News photoshoot and Kanjani 8, Hey Say Jump!, SMAP) - $20
(with poster – 2 sided New Season(?) and small plastic-y Hey Say Jump! thing)
Myojo April 2008 (Kamenashi Kazuya, Hey Say Jump!, Takki & Tsubasa) $15
SHOXX Vol.181 March 2008 The GazettE, Nightmare, SID, Miyavi, Ayabie, Ancafe - $20
ROCKSTAR Vol.1 GACKT An Cafe the GazettE SuG Takeru JAPAN Magazine Cosplay - $25
(with poster - Gackt on one side, An Cafe on the other)
Pati Pati Jun 2008 (Nightmare, Sid, Asian Kung Fu Generation) - $15
Arena 37 Special 2008 May (Alice Nine, Kagrra, Seto Koji) - $30
Neo Genesis Volume 12 (Sid, LMC, Alice Nine, Nightmare, Merry - $25
(With 2 sided poster)